Art can be an interesting reflection and commenentary on beauty and on being human. What interests us might create a bigger conversation about beauty and a search for a humanness that connects us all. Below are a few conversation pieces worth checking out.
Should Barbie be reflective of us?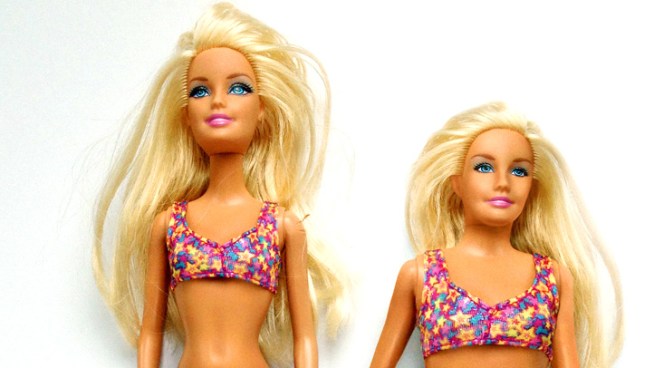 Artist Nickolay Lamm "used CDC measurements of an average 19-year-old woman to create a 3-D model, which he photographed next to a standard Barbie doll. Lamm then photoshopped the 3-D model to make it look like a Barbie doll."
Would it matter if young girls were playing with these dolls instead of the unrealistic, unproportational, teeny tiny classic Barbie doll? Or maybe the question should be would they even choose a normal looking doll? Would they find it more beautiful?
How do we react to seeing sculptures of ourselves?
Artist Ron Mueck is known for his hyper realistic scupltures that many can't seem to look away from. They have been described as bizarre and amazing. When we see something that looks so much like us, but so completely out of proportion, it doesn't seem to make sense. His work often shows the hyper realistic version the of human condition and body.
His work captures the essence of humans. Does it capture beauty? Does it capture uglyness? Either way it reflects us.
 Superstar celebrities looking like regular people.
Danny Evans is a master at transforming the famous face into the regular ol' neighbor next door. Evans explains what started his interest in photoshopping  stars, "The makeunders started a few years ago. It was a reaction to the over-retouched photos of celebrities that have inexplicably become the norm. I wanted to reverse the process and show what stars might look like without photoshop, trainers, stylists, and endless means." He also comments that the stars in all of their glam seem to "all look the same and I think it's really boring."
What makes beautiful celebrities interesting when they look plain and…regular? Are they still beautiful or are we drawn in just so we can see them as human? When untouchable beauty meets the normal day to day, if anything, it's amusing.